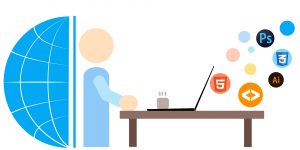 Every industry and business needs software for their business processes. In most cases they need custom software that serves their purposes specifically. Naturally, software development services especially for enterprises will continue to remain as indispensable.
While this increasingly mission-critical role of software for businesses and organisations will continue, some new emerging technologies are actually helping the software development processes. Big Data is one of these new technologies that is constantly boosting the software development process across development companies. Most big data solutions providers now work hand in hand with enterprise software developers to create robust business specific solutions.
The Mission Critical Role Of Big Data
 Big Data referring to the large volume of digital data which is exponentially growing and allowing new scopes of data driven analytics for delivering useful insights across industry and business niches. The enormous volume of digital data which includes a variety of data types is now considered as rich source of data driven insights that can be utilised for decision making and business processes of various types. Now when this analytical scope of Big Data is used by an intelligent data processing analytics software what we get is Big Data analytics software.
The biggest benefits of this big data analytics software is that it brings tremendous efficiency and speed of data processing. It helps business organisations utilise digital data of various types to determine plan of action, business moves, and take major decisions that can have considerable impact on business output. Thanks to such cutting edge data analytics the business process and decision making becomes more reliable and data driven.
Agility Is Boosted With Big Data
Faster development and faster time to market is one of the basic prerequisites for the success of most custom software development solutions companies. Instead of spending months in building an app that involves several stages followed by tasting they now can adopt agile development that allows running several processes including testing simultaneously. Thanks to Big Data the developers now can have the real time data driven analysis across processes within a project and can come out with the completed product faster than ever before. Agile development process gets a solid boost when the project is worked upon in collaboration with Big Data based tools like Hadoop.
Software Projects And Deployment Getting Big Data Boost
When it comes to the outcome of a project, the taking the final decisions are often challenging without the support of data driven insights. Big Data tools and apps in this respect helps developers to visualise the entire project data in real time and this helps in quicker decision making for different aspects of the development process. Big Data which also encompasses all kinds of unstructured Data across various domains including the social media often delivers insights that traditional channels fail to deliver.
Software development as it seems cannot undermine the impact of big data analytics. Thanks to the tons of digital data that are heaping over on a regular basis the project managers can now have a wide array of data driven insights for their respective niches and accordingly take important decisions. The data driven decisions actually helps building software that proves effective to solve real life problems of customers.