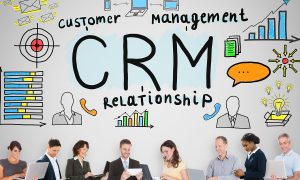 Most entrepreneurs still think that Customer Relationship Management services or CRM services or respective software solutions are basically required by big businesses with considerable manpower and customer outreach. They are not entirely wrong as for large firms CRM comes as irreplaceable core solution for handling several tasks. But they just forget that CRM is far from a monopolised area of expertise for big firms. CRM equally means a lot for small firms and even businesses run by single entrepreneurs.
Whether it is big or small business, to stay ahead of competitors in terms of growth and ROI you need CRM solutions integrated into your business. The entire landscape of CRM solutions also evolved a lot and now CRM software also come in affordable packages for small firms and proprietorship businesses. Naturally, more numbers of new generation solo entrepreneurs are taking interest in CRM integration to stay ahead of competition.
By taking a look at at the statistics we vine to know that CRM solutions deliver an ROI of $8.71 against every dollar spent. With such lucrative figures making an obvious proposition and sales pitch for CRM integration, as a solo entrepreneur you must feel intrigued to take a positive consideration about integrating CRM software into your business.
What Is There Into It?
To describe it simply, the CRM software basically allows you to manage your customer relationships better and for for objective profitable causes. If you have a excel sheet filled with customer prospects and leads, it can be considered as the very basic or a rough CRM available for you. When these leads, prospects and customer data are managed in a more proactive way to make them more accessible and helpful for faster business conversion we have professionally developed CRM software solution.
As your business is getting more complex with multifaceted avenues of customer interaction and lots of new activities and efforts for business conversion, those simple spreadsheets of leads and prospects will no longer be enough. This is when CRM software comes as important. Earlier you adopt CRM solutions the better because you can always manage the learning curve and master the software better when your business already grown up.
Benefits For A Solo Entrepreneur Of Using CRM Software
Every small business with one man running the show as the business head encounters too many tasks to handle to stay ahead of competition. They need to convert leads on a continuous basis but they just cannot afford robust manpower and business development team who can work for fetching new projects and orders day and night. This is when a well equipped CRM solution just lends its helping hand to manage the customer data more professionally and in a time bound manner.
These days, a vast majority of the CRM solutions offer social media tracking capability. This allows you to track all your customer contacts and prospects on social media and get a detailed idea of their knacks and preferences. Such valuable insights drawn from social media profiles ultimately help businesses knowing their customers in depth and this in turn helps them make better value proposition. Moreover, this social integration also allows businesses communicating their customers across a lot of channels instead of sticking to a few.